AMERICAN SIGN LANGUAGE BABIES SERIES
American Sign Language Babies is a series of 4 board books with signs for common words used in everyday communication with your baby or toddler. Organized around topics like food and clothing, each book contains 14 signs
In recent years, interest in signing with babies has skyrocketed. Studies show that using sign language with babies offers a wealth of benefits for your child's communication development.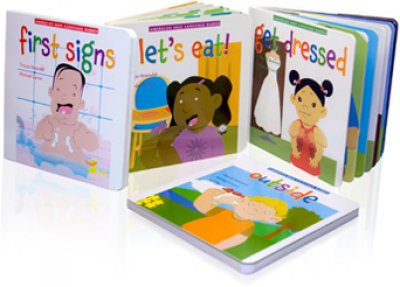 Learn the signs here!
Click on a title below to see signs from any of our board books!
More information directly to the left!
*For hints on signing, click "How to Understand"
*To learn about benefits of signing with your baby, click "Benefits"
*To see all our children's products, click "Children"
To learn about our Once Upon a Sign Series, click here!